The Next Best Room In Our House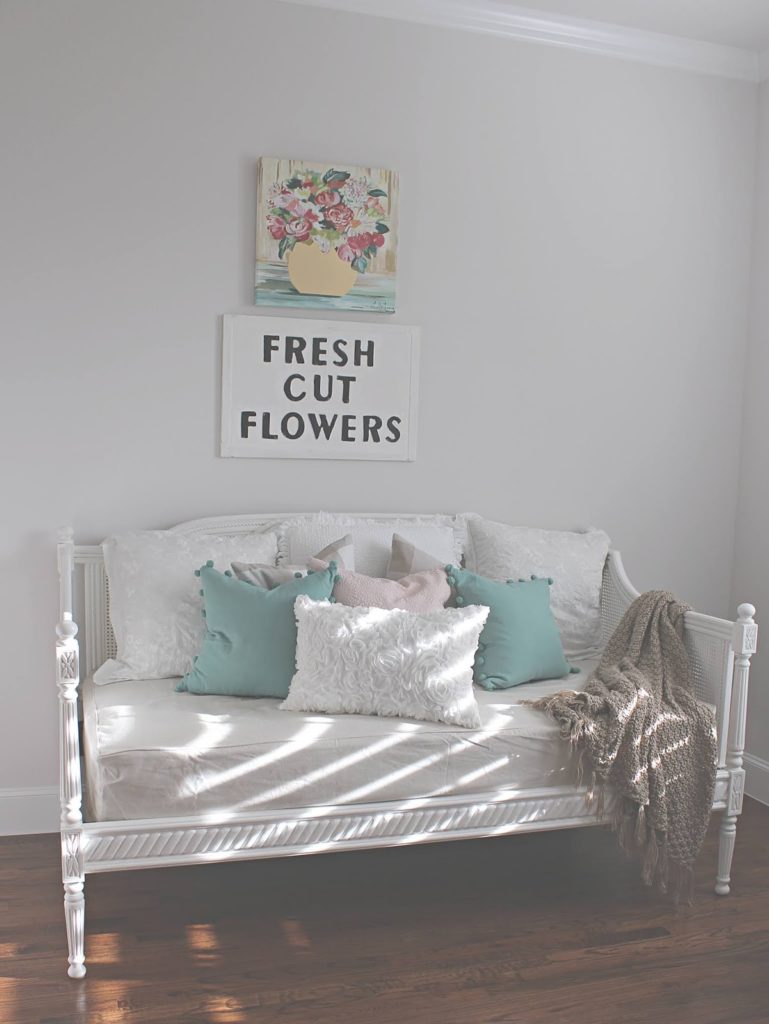 I'm going to have to start asking here on the blog as I often do in real life, "Did I already tell you this?" It seems like I'm constantly prefacing a conversation that way or stopping in the middle of a conversation to ask that question. Do you do that too? Please say yes.
You may or may not know that our son moved out a few weeks ago to begin his career as an RN. He has his own apartment in Dallas – thankfully only about 25 minutes away. Now we have the two rooms that he had been occupying to outfit and decorate for future use.
What's a mom of two sons to do? I'm making one of the rooms on the feminine side with some fun ideas in mind. Well let me be honest, all of the decorating I do is on the feminine side. That's my choice and I'm sticking to it.
The story of this room began about six weeks ago when I decided that since we have four bedrooms, I would design this room with a daybed. I would like to have space in this room to pop up a card table for crafting or other creative pursuits. The desire to be crafty gnaws at me but this obsessively neat girl needs a door to close on the mess! Now this will be the best of both worlds! Don't you think? With a bed, we can still have a guest sleep here if needed or I can get messy in here when I want to and then walk away.
So I need to tell you about purchasing the bed. Remember when I told you about meeting J. through Craig's List? I had been researching daybeds online and fell in love with the Louis Daybed from Ballard Designs. Just on a whim, I searched Craig's List and found it right here in my town only a few miles away. J. had purchased the beautiful daybed to use in her living room but it turned out to be too big. She only had the bed for two weeks! She sold us the daybed, the twin mattress, and the custom-made linen cover for a more than reasonable price. When I brought the bed home I realized it had a yellowish tint that just didn't work with our wall paint color, Sherwin Williams Eider White. A couple of quick coats of Annie Sloan Pure White made the paint perfect.
This room is still very much a work in progress. I've been poofing beautiful pillows, going through my stashes for the perfect accessories, and now I'm off to look for the perfect rug.
Like other rooms we've worked on before, I stand and stare at this one. The colors – pink, taupe, soft green, and gold are slightly different than the rest of the house. The room is feminine and inviting already even though it's far from finished.
Home projects ease the sting of kids moving out. I'm sure glad to have this project right now! Stick with me and I'll show more progress soon. 🙂
** Have you left a comment at this post? I would love for you to have a chance to win a subscription to Cottage Journal. Please consider pinning.
Sharing this post at Metamorphosis Monday * Amaze Me Monday * Hearth and Soul * The Scoop * Inspire Me Tuesday * Wall to Wall Wednesday * A Delightsome Life * The Creative Circle * Snickerdoodle